Oikos reimagines the door as 'entrance architecture'
Italian security door manufacturer Oikos knows how to make an entrance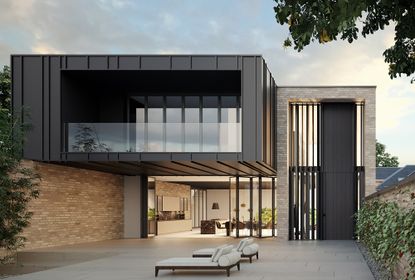 (Image credit: Courtesy Oikos)
In partnership with Oikos
Transform a property's threshold into a portal of distinction, scale and grace. Reimagine the door as high-performance 'entrance architecture', a fusion of intelligent design and security. In the hands of Italian door manufacturer Oikos, the door is no longer just a way in, but is reconsidered as a key element in an articulated sequence of sensory experiences.
Based in Gruaro, near Venice, Oikos has been working with world-class architects and designers for the past 30 years, helping homeowners realise their grand entrance projects, pushing the limits of production in terms of finish, technology and customisation, and putting its creations at the forefront of the new entrance architecture aesthetic.
The company's technology and customisation capabilities provide the design tools for those looking for new solutions of high aesthetic impact. With both internal and external doorway dimensions increasing in height and width, the technological component is an essential element of the product, while the study of new materials is an ever-evolving theme.
Oikos' rigorous process is tailored to each project. The customer imagines an entrance architecture, and communicates dimension, ambition and needs to the team. Oikos technicians and engineers then work closely with the design office to move the project into the realisation phase. Merging artisanal skills and industrial processes, all Oikos products are technically advanced and artistic in their expression, with quality levels comparable with luxury furnishings and high-end interior design.
Its pivot doors – mechanically balletic, bold and impressively proportioned – have made a strong first impression in contemporary properties from California to Ibiza. Anti break-in doors, built to fortress standards of safety and strength, are almost impenetrable to anyone without a key. Oikos also builds doors for projects where safety, protection and aesthetics are required to coexist. Its glass pivot doors create a new perspective between inside and outside, while integrated entrance systems merge door and wall to deliver immersive 'entrance architecture' drama.
With functionality crucial to performance, the company develops innovative solutions to issues relating to insulation and the prevention of any air or water ingress. Electronic locking is available on all product ranges; operated via app, proximity card, keypad or fingerprint, the Arkey system is smart and convenient.
'Our experience and our will to improve have allowed us to get patents on pivoting opening systems, hinges and handles and to obtain quality certificates,' say the company founders, while in terms of aesthetic inspiration, they don't have far to look. 'We work really close to Venice and we keep on taking inspiration from this wonderful city by following our natural inclination for beauty.'