The London art exhibitions to catch before 2021
Really good art (virtually exhibited or otherwise) has been a form of true escapism in 2020. As the year wraps up (thank goodness!) we round up the best shows to tick off your must-see list in London before the New Year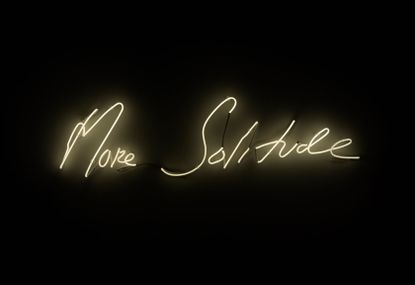 (Image credit: © Tracey Emin)
Zanele Muholi at Tate Modern
South African artist Muholi first reached acclaim in the early 2000s with photographs that told powerful visual stories of black lesbian, gay, bisexual, trans, queer and intersex lives in their native country. Through 260 photographs, the artist and visual activist's first major UK survey at Tate Modern spans the full breadth of their practice to date, ranging from their first series, Only Half the Picture, to the ongoing Somnyama Ngonyama. Through brave, poignant, empowering and often-tender portraits, Muholi has become recognised as one of the most celebrated and important photographers of the era.
Until 7 June 2021. tate.org.uk
'Tracey Emin / Edvard Munch: The Loneliness of the Soul' at the Royal Academy of Arts
Tracey Emin has long been captivated by Norwegian Expressionism pioneer Edvard Munch. 'I've been in love with this man since I was 18,' she states. The 'Loneliness of the Soul' at the Royal Academy of Arts sees the two artists – born precisely 100 years apart – in an intense visual conversation. For the show, Emin deep-dived into Munch's Oslo archive and settled on 18 oil and watercolour works – many exemplifying his intimate and poignant portrayals of women – to sit alongside hers. Emin contributed more than 25 pieces including paintings, some of which will be on display for the first time, neons and sculpture. Between the artists, one common thread is more potent than most: their ability to turn grief, trauma and angst into deeply personal, searingly expressive art.
Until 28 February 2021. royalacademy.org.uk
Michael Clark at the Barbican Centre
The pioneering provocateur who changed the face of contemporary dance, Clark began training in traditional Scottish dance aged four and later studied at London's Royal Ballet School. He went on to explore the furthest intersections of dance, life and art, fusing classical dance with London's punk, fashion and club cultures. An exhibition at the Barbican explores his radical approach, through his own work, and the minds and art of his collaborators and those he inspired, including Leigh Bowery, Cerith Wyn Evans, Sarah Lucas and Wolfgang Tillmans. Clark's iconoclastic dance and choreography challenged notions of gender, conformity and conservatism, as well as the medium itself. As he said, 'I try to make dance that isn't about dance.'
Until 3 January 2021. barbican.org.uk
Do Ho Suh at Lehmann Maupin
The second show in Lehmann Maupin's newly-opened space in Cromwell Place, Korean artist Do Ho Suh's striking solo exhibition comprises large and small-scale architectural fabric works, thread drawings, watercolours, and bronze sculpture. Here, the artist explores concepts of place, home and the liminal spaces one inhabits before entering rooms. His boldly-hued fabric installations recreate, to scale, spaces within his former residences and studios, and entice spectators to step inside. Spectral and transient, Suh's sculptures and installations delve into timely themes: connectivity, our sense of self, and the definition of private and public space.
Until 20 February 2021. lehmannmaupin.com
Lawrence Abu Hamdan at Maureen Paley
Hamdan turns his research-focused approach – which made him a joint Turner Prize winner last year – to the subject of reincarnation, not as a scientific fact but rather as a medium for justice. In Once Removed, a dual-channel video work that debuted in Sharjah, he interviews Bassel Abi Chahine, a 31-year-old writer and historian with an impressive collection of artefacts relating to the Lebanese civil war. The conversation takes on a discomforting dimension when it's revealed that much of Chahine's knowledge of the war comes from his conviction that he's the reincarnation of a soldier who died. In the space adjacent, Hamdan's new work For the Otherwise Accounted reveals the research of psychiatrist Ian Stevenson, who investigated claims of reincarnation around the world based on similarities in birthmarks. While the attempt to interrogate a supernatural phenomenon may invite skepticism, Hamdan frames it as a way to shed light on injustices and violence, which might otherwise have been erased from the historical record by colonial subjugation, corruption and lawlessness.
Until 31 January. maureenpaley.com
Lynette Yiadom-Boakye: 'Fly In League With The Night' at Tate Britain
Figures gaze from canvases, and at each other, with a calm, yet intentional resolve. The viewer is left to decipher their stories, but these are stories – it's all fiction in the enigmatic work of British painter and writer Lynette Yiadom-Boakye. The exhibition at Tate Britain is the artist's largest survey to date, and addresses pertinent questions on identity and representation. Her subjects, which seem to exist beyond the constraints of time and place, are formed from found images and her own imagination. Writing is a key facet to Yiadom-Boakye's work, with evocative titles such as Tie the Temptress to the Trojan and To Improvise a Mountain. 'I write about the things I can't paint and paint the things I can't write about,' she states.
Until 9 May 2021. tate.org.uk
Chiharu Shiota: 'Navigating the Unknown' at König
Three boats, made from black felt stretched metal frame, form the centrepiece of Shiota's solo presentation at König's subterranean space, adrift in a sea of black rope. The installation is her metaphor for the inescapable sense of fatigue that comes with being tethered to technology. 'The volume of information is like a wave, swallowing my body. Our human body is not adapting and changing at the same speed, so it is becoming more complex to find the real meaning of life.' It is natural, of course, to read the artwork in the context of the pandemic, which required the Berlin-based artist to forgo her hands-on approach in favour of supervising the installation virtually. What she says of information overload could equally be a description of our collective experience of 2020: 'we have no safe points of orientation, we travel on the open ocean without a sense of direction.' And while Shiota doesn't purport to guide us out of this predicament, her work has the welcome effect of showing us that those who struggle are not alone.
Until 19 December, koeniggalerie.com
TF has been editor of Wallpaper* since December 2020. He is responsible for our monthly print magazine, planning, commissioning, editing and writing long-lead content across all our content pillars. He also plays a leading role in multi-channel editorial franchises, such as our annual Design Awards, Guest Editor takeovers and Next Generation series. He aims to create world-class, visually-driven content while championing diversity, international representation and social impact. TF joined Wallpaper* as an intern in January 2013, and served as its commissioning editor from 2017-20, winning a 30 under 30 New Talent Award from the Professional Publishers' Association. Born and raised in Hong Kong, he holds an undergraduate degree in history from Princeton University.
With contributions from