Central St Martins
September: The Results
For the Decorators Design Collective, born out of Central Saint Martins College of Art and Design, the Sustainable Neighbourhoods project was a catalyst for an exploration of public and private space in the London Borough of Hackney, looking at how issues of declining car ownership, rising gentrification and the endless debates about space, community and co-operation, could be brought together to serve as a catalyst for a new approach to planning. Hackney's complex and volatile community has subsequently shot to the top of the news agenda thanks to the August riots in London, illustrating the profoundly complex nature of planning and design in the inner boroughs of the modern megacity. The DDC's project proposes the establishment of a hypothetical body, the Commission for the Re-appropriation of Semi-Public Spaces (HCRSS), an organization that bridges the void between car maker and local council. The proposal envisages a future wherein the standard car-parking space is transformed into a space for micro-scale development, both public and private. Their research suggests that anything from community barbeques and meeting spaces through to micro-scale boutique hotels, high-rise cultural centres and even slender swimming pools could result from the reappropriation and re-zoning of these freshly vacant patches of urban fabric.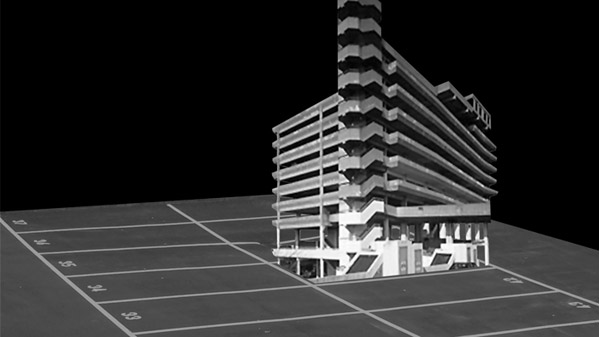 August: The Development
BMW's Kai Langer and Wallpaper* visited Central St Martins to help steer the students. Working under course director Patricia Austin, the Sustainable Neighbourhoods brief was taken up by the Decorators Design Collective, an emerging multi-disciplinary unit that was born out of Central's MA in Creative Practice for Narrative Environments. Design development evolved from tracking the used car market in their neighbourhood, Hackney, through to focusing on the space that evaporating car use would eventually leave behind - the parking space - and the architectural and social uses that could fill its place.
London's turning: Small scale planning for a post-car world
with the team from Central Saint Martins. Part 2
June: The Research
The Decorators Collective, a design team based at Central Saint Martins College of Art and Design, are undertaking the Sustainable Neighbourhoods project in the UK's capital city. Focusing on self-contained sustainability, the DDC's research has been about finding examples of balanced urban ecosystems. 'We need to be designing systems that link a city to its environment in such a way that, when one expands the other contracts, when one receives the other donates, when one adapts the other adjusts. To meet the demands of a growing population we need to be making more efficient use of the limited resources of our cities.' Using the diverse North London borough of Hackney as their test bed, the DDC is seeing whether its very varied streetscape - a broad mix of incomes and industries - could be regenerated without compromising the qualities and variety of its inhabitants. The car became the starting point in our research. The car is a strong element that has determined the urban form of the city but many people in London no longer use this method of transport. We wanted to explore and get to know those members of the community who were discarding their cars. They became our 'our unexpected collaborators'. By searching through the myriad and highly esoteric adverts for cars for sale, the design team was able to build a cultural and social portrait of the borough. Why do people have cars in the city? Car ownership in London is relatively static, even declining, as public transportation and cycling (a strong Hackney subculture) expand. 'We forecast a future scenario where there will be a lot less cars in our neighbourhood, Hackney, so what will a city that was built around the car look like if most of the cars are gone? Is there is an opportunity to explore how existing car spaces could be used for the benefit of the community in the future? Are there alternative uses for these residual spaces?' As a result, the footprint of a typical parking space has become a kind of token, the size of temporary installations that try to bring qualities of private car ownership - a private realm, a status symbol, a place of comfort - that instead benefit the whole community. With this in mind, BMW i becomes a catalyst for a new kind of community, a creator of space and services that changes the way cities are used.
London's turning: The possibilities of a post-car world tempts Central
Saint Martins' design team.
April: The Brief
London's Central St Martins is poised on the brink of a major move, one that epitomises the flux and flow of a major capital city. The esteemed cultural college's new Kings Cross campus, opening in Autumn 2011, will consolidate one of the capital's major centres of creativity. BMW's Neighbourhoods project is being tackled by graduates from the MA Creative Practice for Narrative Environments, overseen by Course Director Patricia Austin. MACPfNE is very much a course for the contemporary era, focusing as it does on the ways in which space - architectural, public, historic or private - is increasingly being used to convey a story. Multi-disciplinary in nature, the two-year course teaches students how to engage people with their environment, be they captive or transitory. Our team of MACPfNE graduates have gone on to form The Decorators, an art and design collective that make use of narrative to create context-specific projects for art, cultural, or community environments. Transportation and communications offer a compelling emerging platform for these new narratives, just as London is a constantly evolving city able to withstand and shape new technologies and modes of transport.
Students of Central Saint Martins, London, explore the neighbourhood of Hackney